Dried Citrus Decorations- Make Wreaths and More!
DRYING CITRUS
By Jennie Lennick
Make Crafts With Dehydrated Citrus
Want to dry some citrus? A regular oven makes an excellent dehydrator, and that means it's super easy to dry fruit right at home! This blog will outline how I created a simple fall wreath made from eucalyptus and lemons. I'll also share some other decorating ideas for using dried citrus.   
I moved into my home a year ago, and one of the selling points was the garden in the backyard. It's a natural wonderland full of flowers, herbs, succulents, and a Meyer lemon tree. 
Our lemon tree produces so many delicious lemons each season. In the winter, we feast on lemony cocktails, lemon poppy seed cake, and lemon chicken. When were all lemon-ed out, I love to slice and dry them! 
It's so simple to dehydrate fruit in your oven, but it takes a long time. I typically let my fruit bake on low for 4 to 8 hours, depending on the thickness of the slices. Don't let this long baking time deter you! Not only will your house smell amazing as the fruit dries, but by the end of the day, you'll have tons of slices ready to use for DIY crafting and cooking projects!
Slice your citrus as thin as you can! The skinnier the slice, the shorter the drying time.
Cover your baking sheets with parchment paper and arrange fruit in a single layer. It's okay if the pieces touch slightly, but don't lay them on top of each other.
Bake at 200 degrees. Check the fruits at 3 hours and flip them. Flipping the slices ensures they dry flat.  If they are not dry, check again in an hour. Pull fruits that are dry and leave ones that need more time. After 4 hours, Check them every half hour until they are dehydrated.
I like this guide to dehydrating citrus from Short Girl Tall Order. In it, she breaks down drying time for specific varietals of citrus in detail!  
I wanted to keep my wreath super simple and allow the citrus to be the star of the show, so I decided to use this grapevine base adorned with eucalyptus branches and rosemary from my garden. Trader Joe's has affordable greenery in their cut flower section if you don't have a garden!
Step 1: Use Wire To Attach Greenery
Cut a 2-foot length of floral wire. 
Wrap a sprig of greenery around the grapevine base with your wire. 
Overlap the branches so there are no bald spots.
Cut another 2-foot piece of wire. Wrap the end of the wire around the wreath base to secure it in place.
Pierce the wire through a citrus slice and slide the citrus down the wire so it rests against the front of your wreath. Twist the wire around the entire wreath to secure the slice in place. 
My wreath is gorgeous! I am so happy with how it turned out!
Do you have a lot of extra dried fruit?  You can use dried citrus for a myriad of uses!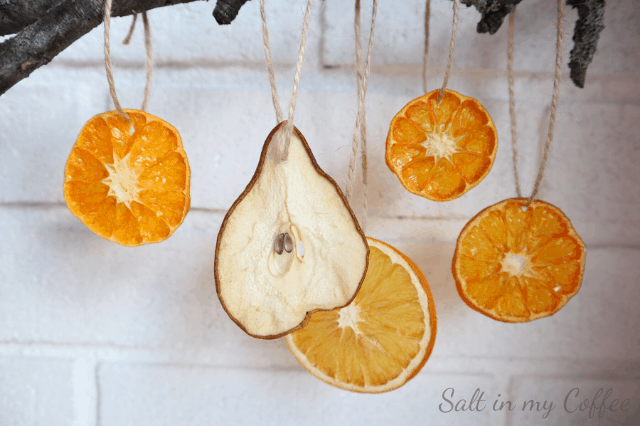 It's so easy to make ornaments from dried citrus. Just string some ribbon through the slice and you're good to go! I love this tutorial from Salt in My Coffee.  
Dried fruits make a beautiful garnish for cocktails! I want to make all the cocktails in this article from The Inspired Home. 
Dried citrus looks beautiful as a little flair on wrapped gifts. This tutorial from Annika Pannu is gorgeous and full of great ideas for projects.
More Craft Blogs to Get in The Holiday Spirit
Happy Holidays! You can check out all of my DIY blogs here.  Do you have more uses for dried fruits? Share them in the comments below!
JENNIE LENNICK 
Designer, entrepreneur, and lover of crafts! Boss Lady at Jenny Lemons in San Francisco